I guess Amarillo, TX is a kind of random place to have random experiences, which is why I'm out here right?
Going to watch a movie:
I felt like I haven't gone to a movie theater in quite a while, that could be fun. I have Fandango on my phone to show me all the theaters. Amarillo has a drive-in theater, awesome! I went and washed the truck, found a cool pizza place and headed for the drive-in.
Fandango put it out of the city on Folsom Drive, well that makes sense, it's a drive-in, city lights and all that… what's on Folsom Drive? A prison.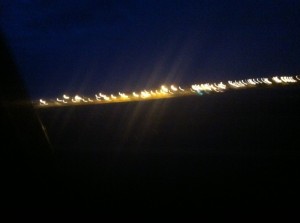 Seriously, a prison.
(best I could do for a picture)
Ok, so I still have time, let's go to the address that seems to be in the city (near the zoo and themepark) That sounds about right, and I googled Tascosa Drive-in just to be safe.
After circling the blocks a few times, this is all I could find:
Ohh well, past the movie start time anyway. Looking at google street view on my computer now after the fact, I guess it was on the other side of the RV park (not even close to this address).
So I made my way back to my motel and am now eating lukewarm (but tasty) pizza and watching Totally Biased and Louie while writing this. Least I had good food and randomly got to drive around getting to know my way around the different Amarillo neighborhoods better.
If You Like "Puttering around Amarillo", Please Share:
Recent Posts: